University of Münster
The Westfälische Wilhelms-Universität Münster (WWU) is one of the largest universities in Germany approx. 40.000 students enrolled in more than 250 undergraduate, graduate and postgraduate programs in 15 academic departments employing some 565 professors. The Institute of Education at WWU is one of the largest of its kind in Europe providing higher education – undergraduate (B.A.) and graduate (M.A. and doctoral) programs – and undertaking research in the area of Educational Science. Among the research projects recently conducted or ongoing are the EU-funded GOETE Project (FP 7, 2010-2013) and the Support Action Project MaSciL (FP 7, 2013-2016), both international projects were/are concerned with generating new knowledge and improving the link between education and the world of work by comparative research.
Key-Players
Dr. Marcelo Parreira do Amaral is full professor of international and comparative education and educational researcher. He holds a Master's degree in Education Science and American Studies and has extensive educational background in both subjects. He also holds a doctoral degree in Social Sciences and currently works as an educational researcher and teaching member of the Institute of Education at WWU; Parreira do Amaral is also lecturer at the University of Tuebingen and University of Köln, Germany, and at the University of São Paulo (USP) and the State University of Ceará (UECE), Brazil.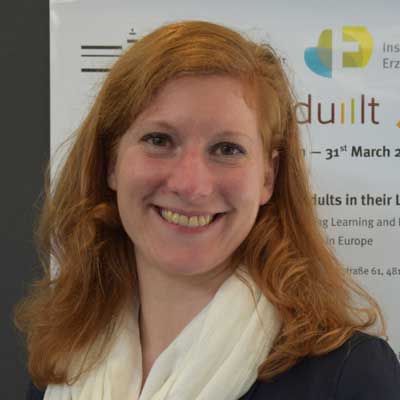 Anne Weiler is a research associate in education and doctoral candidate at WWU. She majored in English/American Studies, History and Education at the University of Bochum, Germany and the University of Nebraska, Lincoln, USA and received a Master's degree (equivalent to first degree teachers' license).
Dr. Sieglinde Jornitz supports the WWU team as a research associate. She holds a Ph.D. in Education Science (University of Essen) and has extensive experience in qualitative research methodology and international research. Her research interests are processes of educational reform in international contexts, for instance the role and relevance of the European Commission or the OECD in promoting evidence-based policy and research.
Jozef Zelinka is a doctoral candidate at the University of Münster. In his current research he analyses the prevention of psychical disorders, especially the practices of preventing burn-out syndrome, from a critical theoretical perspective inspired by Michel Foucault. He has previously studied International Relations at the University of Economics in Bratislava and World Politics at the Saint-Petersburg State University.