South-West University Blagoevgrad
The South-West University "Neofit Rilski" in Blagoevgrad, Bulgaria (SWU) is a public higher education institution established in 1975 and committed to teaching, research and service to community. The range of degrees includes Bachelor, Master and Doctor. The university also provides various courses for postgraduate and continuing education. Currently the University consists of 9 faculties encompassing social sciences, humanities, natural sciences, technologies, arts and sports. Around 14 000 undergraduates and post-graduates currently pursue their studies at the South-West University. Around 700 of them are international students coming from various countries such as Greece, Turkey, Cyprus, Serbia, Albania, Moldova, Ukraine, Russia, Japan, Pakistan, Yemen, etc. The teaching, research and administrative staff is around 1 000. The South-West University implements various projects funded by European Territorial Cooperation programme, Sixth and Seventh framework programmes, Scientific Research Programme of the World Bank, Open Society Foundation, CEEPUS, DAAD, PHARE, DAPHNE III, INTAS, COST, Human Resources Development programme, ERASMUS+, etc. The University implements proactive international policies involving the cooperation of educational and research institutions from all around Europe, America and Asia.
Key-players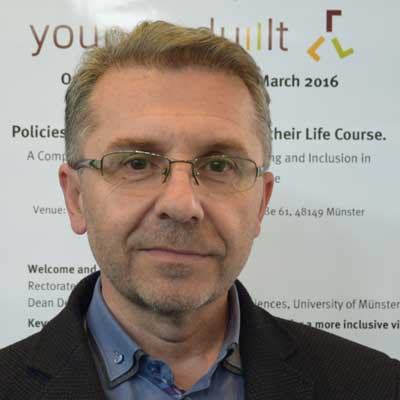 Dr. Georgi Apostolov is the Team Leader of the project. He is currently Vice-Rector of the South-West University, responsible for research and PhD studies. For the last 8 years he was Dean of the Faculty of Philosophy. Dr. Apostolov is Associate Professor of higher education and science management and teaches graduate and post-graduate courses in Education, science and technologies; Quality management in education; Management of organizational culture and leadership; Management ethics; etc. He holds a doctorate in History of philosophy. Since 2012 he has been the Editor-in-Chief of Philosophy Journal published by the Ministry of Education and Science in Bulgaria. Professor Apostolov is a member of various professional associations and consultancy boards and has been working as an external evaluator for the LLLP and Erasmus+ programmes since 2007. He has been engaged in many international projects (e.g. under Socrates, Minerva, Erasmus, Leonardo da Vinci, 6th and 7th Framework programs, etc.) and initiatives in the field of training, higher education, science and youth. His particular experience is in the field of evaluation and implementation of projects for HE and VET, as well as gender and equality. Prof. Apostolov is leading WP 10 Ethics and Dissemination and will take part in all other WPs where SWU is involved.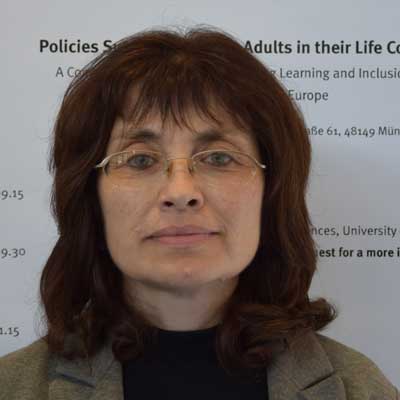 Dr. Valentina Milenkova is a Professor, Head of the Department of Sociology at South-West University, Blagoevgrad. She holds lectures on "Sociology of Education" and "Social Stratification and inequalities". She is also a lecturer at the University of National and World Economy, Sofia. She defended her doctoral thesis on "Education and Social Reproduction" at the Institute of Sociology of the Bulgarian Academy of Sciences. On this basis Valentina Milenkova has also provided scientific consultancy to the Bulgarian Ministry of Education and Science, NESET and the Open Society Foundations. Milenkova has worked on the broad area of social dimension of education and training policies as a researcher, lecturer and professor. Her research interests are particularly focused on educational policies for ethnic minorities and the social significance of education. In the project she will be mainly involved in policy mapping review and analysis, qualitative analysis, writing national reports, ethics and dissemination.
Dr. Petrana Stoykova is a Chief Assistant Professor at the Department of Sociology, Faculty of Philosophy, South-West University "Neofit Rilski". In 2008 she defended her Ph.D on "Models of electoral behavior in Bulgaria in a period of transition (1989 – 2007)". Petrana's teaching experience includes classes on "Sociology of Law" and "Election and electoral systems". She also has strong scientific interests in the field of the Sociology of Politics and Sociology of Education. Dr. Stoykova is a board member of the Bulgarian Sociological Association. In the project she will be mainly involved in quantitative analysis young adults' data, regional/local case studies, comparative analysis.
Irina Topuzova is a PhD student at South-West University and also a part-time assistant professor in Psychology. She obtained her master degree in Legal Psychology in 2010. She teaches graduate courses in Psychology of Management, Organizational Psychology, and Legal Psychology. She is an expert of topics related to effective functioning of administration and the society at large within the European Social Fund Programs (Operational Programme Administrative Capacity 2007-2013) in Bulgaria (e.g. social status, personal identity, roles and norms, motivation, communication styles). She is national representative for Bulgaria of ERU (Early Researchers Union) at the European Association of Developmental Psychology (EADP). Her research work is devoted to the Motivation of the Teaching and Research Staff in the Academia. She participated in an Erasmus project aiming to develop an International Master Program in European Higher Education Management and Development. She is also involved in additional projects about organizational environment, gender and equality etc. Mrs. Topuzova will contribute to the implementation of the WP 10 Ethics and Dissemination.