YOUNG_ADULLLT Fourth Consortium Meeting in Genoa, Italy
The Fourth Consortium Meeting of the project was held in Genoa from November 15 –17, 2017 and marked the completion of the fieldwork. "Now that we completed the data collection phase of the YOUNG_ADULLT project", as coordinator Prof. Marcelo Parreira do Amaral stated, "we successfully paved the way for our comparative analyses and the dissemination of results".
The Consortium was welcomed by the local team led by Professor Mauro Palumbo in the historical premises of the University of Genoa. A highlight of the work programme was a policy roundtable at the Salone Orientamenti on November 15, 20171. The Salone Orientamenti is one of Italy's most important event for presentation of academic programs, national guidance schemes and the promotion of informed choices for future careers among young people; the event counted with more than 70.000 visitors.2
During the meeting, partners discussed the progress of the project and celebrated the completion of the national sub-studies on the quantitative analysis of young adults' social and living conditions (Work Package 4), analyses of young peoples' learning histories (Work Package 5), as well as of national strategies to govern the supply and demand of skills (Work Package 6).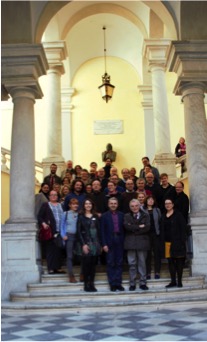 A further theme for discussion included the integration of results from previous Work Packages in the case studies (Work Package 7), which aim at providing the basis for regional reviews of policies and programs, networks of actors and individual life projects of young adults for an ideal-typical modelling of coordinated policy-making.
A central aspect of the meeting was preparing the different empirical Work Packages for preparing the comparative analysis (Work Package 8) and its dissemination in Policy Roundtables (Work Package 9). Discussions aimed at setting out our operationalization plans, deliberating on a number of crucial methodological issues related to the activities. It also involved starting preparations for the various Policy Roundtables to be conducted in the regional settings in 2018.
The Consortium Meeting was a full success paving the way into the next phase of the project. We are now looking forward to drawing together the projects results for both, the comparative analysis and its public communication and policy information.
1 See press release at: http://www.orientamento.liguria.it/evento/politiche-giovanili-e-orientamento-un-confronto-europeo/
2 See http://www.orientamento.liguria.it/